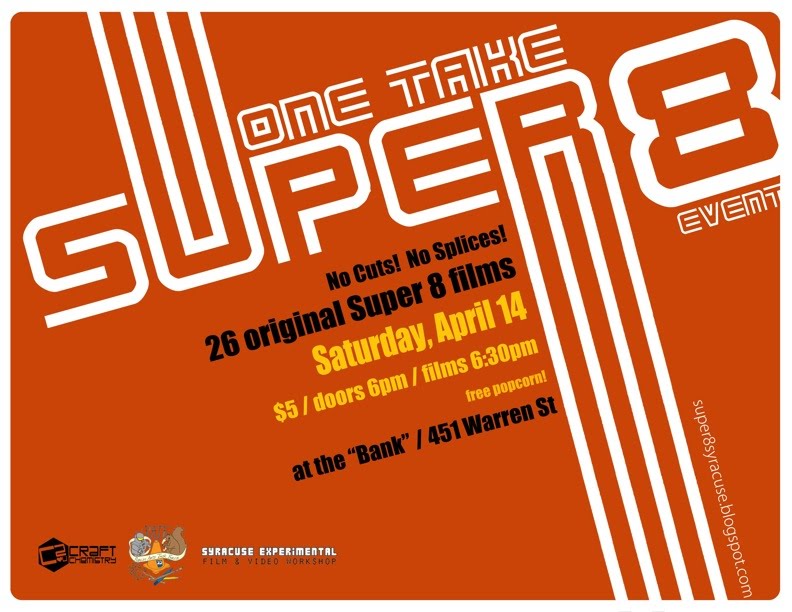 Just about every year there is a 'One Take Super 8' showing of local filmmakers featuring never before seen footage captured on super8 cameras. You see all kinds of fun stuff from stop animation, to elaborately planned effects, to chase scenes, to wildly imaginative stories, with different ways of bringing sound, music, and audience interaction to the film.
It's always interesting every year. It's always strangely refreshing to use basic limitations to really ignite creativity.
The info:
At this year's One-Take Super 8 Event we're premiering 26 never-before-seen Super 8 films made by local people.  Each film 3 minutes + 20 seconds and has not been edited, spliced, or cut up in any way!   We would love for you to attend this awesome event on Saturday, April 14 at 451 Warren St, Syracuse, NY.  Doors open at 6pm / films start at 6:30pm.  There is a $5 cover fee which includes of free popcorn and soft drinks.
For more information please visit our website super8syracuse.blogspot.com or 'like' us on facebook.com/SyracuseOneTakeSuper8Event
Programmed by Craft Chemistry and the Syracuse Experimental Film and Video Collective.
Sponsored by The 40 Below Public Arts Task Force
This year it's in a building on Warren Street I've always admired — I have no idea if it's a pop art venue, going to become some sort of art space or what? Check it out. Syracuse can always surprise you if you get out and look.
[info content and image from info@craftchemistry.com]
SICK AT HOME by Tonja Torgerson, opens this Friday, February 24th at Craft Chemistry gallery in Syracuse with an Artist Reception from 7pm-10pm!
Wow, check this out  —>  In this weeks NewTimes, there's a great article about the exhibition!  "The Art of Sickness" written by Veronica Magan.
[image and content straight from the mind, fingertips and e-mails of the c2 folks]